Our Own Games
We develop and publish our own games for both iOS and Android in Japan.
We enjoy making games that match the market need for casual and fun games in our home market. A lot more games are coming right up!
Make Your Game!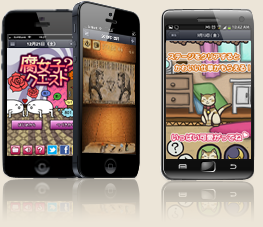 If you have ever thought "I want to make this!" or "I have this idea!", then we can help you with that too! Following the same process as our localization partnership, after completing your app, we will take care of the marketing and promotion of your game through press releases on review sites, social media, and advertising networks.
So, go ahead. Contact us anytime for anything related to developing your next idea.
A Look at Our Games